Program lojalnościowy dostępny jest tylko dla zalogowanych klientów.
Wysyłka w ciągu

2-3 dni

Cena przesyłki

0

Dostępność

0

szt.

Waga

0.15 kg
| | |
| --- | --- |
| Kod kreskowy | |
| EAN | 4711213689284 |
Opis

Opinie i oceny (0)

Zadaj pytanie
Zarządzalny switch światłowodowy SFP dla sieci przemysłowych oraz Telecom
PLANET IGS-10080MFT to przemysłowy 10-portowy zarządzalny switch specjalnie zaprojektowany do budowy podstawy wydajnej i szybkiej sieci pracującej w środowisku przemysłowym. Switch przesyła również dane poprzez światłowód. Posiada 8 portów 100/1000 Base-X SFP światłowodowych oraz 2 dodatkowe miedziane porty 10/100/1000Base-T - wszystko to jest zamknięte w solidnej obudowie z zabezpieczeniami IP30 posiadającej redundancyjny system zasilania. Urządzenie może pracować w zakresie temperatur od -40 do 75 stopni C, co czyni je idealnym rozwiązaniem do montażu w trudnych warunkach.

Tworzenie zautomatyzowanej sieci dzięki funkcjonalności zarządzalnego switcha IPv6 / IPv4
IGS-10080MFT to odpowiedź na rosnące zapotrzebowanie na zarządzalne gigabitowe switche Ethernet, zwłaszcza w surowym środowisku przemysłowym. Urządzenie posiada funkcje zarządzające protokołami IPv4 i IPv6 i może pracować z oryginalną strukturą sieciową. IGS-10080MFT zapewnia zaawansowaną funkcję przełączania warstwy 2 do warstwy oraz redundancję, QoS, kontrolę ruchu, kontrolę dostępu oraz uwierzytelnianie. Bezpieczne zarządzanie chroni przemysłową sieć klienta.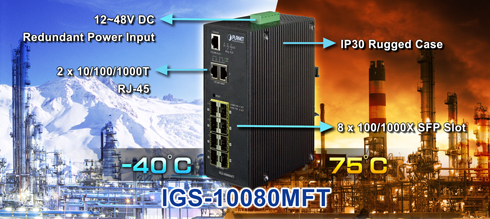 Szybkie odzyskiwanie do redundancyjnej sieci Ethernet
IGS-10080MFT posiada funkcję silnego samo odzyskiwania w celu zapobiegania przerw w dostawie oraz ingerencji z zewnątrz. Switch obsługuje RSTP, MSTP oraz Loop Protection, co pozwala na wyłączenie specyficznych połączeń Ethernet jeżeli system wykryje pętlę. Dynamiczna agregacja połączenia oraz redundancyjny system zasilania zapewniają klientom końcowym zwiększoną stabilność całego systemu, niezawodność oraz wysoki uptime w trudnych warunkach przemysłowych. Skutecznie chroni sieć klienta dzięki możliwości odzyskiwania switcha która jest wykorzystywana do implementacji odpornych sieci pierścieniowych.
Elastyczne i rozszerzalne rozwiązanie
8 slotów mini-GBIC wbudowanych w IGS-10080MFT obsługują światłowodowe moduły Dual-Speed, 100Base-FX i 1000Base-SX/LX SFP. Oznacza to, że administrator może wybrać pasujący transmiter SFP uwzględniając przy tym odległość transmisji lub jej prędkość, mając również na uwadze efektywność całej sieci.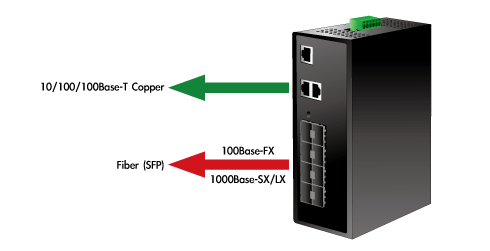 Hardware Specification
SFP/mini-GBIC Slots
8 100/1000Base-SX/LX mini-GBIC SFP slots
Copper Ports
2 10/100/1000Base-T Ethernet interface
Switch Architecture
Store-and-Forward
Switch Fabric
20Gbps / non-blocking
Throughput (packet per second)
14.8Mpps
Address Table
8K entries, automatic source address learning and ageing
Flow Control
IEEE 802.3x Pause Frame for Full-Duplex. Back pressure for Half-Duplex
Jumbo Frame
9Kbytes
Reset Button
< 5 sec: System reboot
> 5 sec: Factory Default
ESD Protection
6KV DC
EFT Protection
6KV DC
Enclosure
IP30 Aluminum Metal Case
Installation
DIN Rail Kit and Wall Mount Kit
Alarm
One relay output for power fail
Alarm Relay current carry ability: 1A @ DC 24V
LED Indicators
System: 
 Power 1 (Green)
 Power 2 (Green)
 Fault Alarm (Green)
 Ring (Green) *
 R.O. (Green) *
Per 10/100/1000T RJ-45 Ports: 
 1000 (Green)
 10/100, LNK/ACT (Orange)
Per SFP Interface:
 1000 LNK/ACT(Green)
 100 LNK/ACT (Orange)
Dimension (W x D x H)
72 x 107 x 152mm
Weight
1036g
Power Requirement
DC 12 to 48V, AC 24V Power Adapter
Power Consumption
13.92 Watts / 47.76BTU (Full loading)
Layer 2 function
Basic Management Interfaces
Web Browser, Remote Telnet, SNMP v1, v2c
Secure Management Interface
SSH, SSL, SNMP v3
Port configuration
Port disable/enable
Auto-Negotiation 10/100/1000Mbps full and half duplex mode selection
Auto-Detection / Forced 100/1000Mbps SFP Fiber transceiver speed
Flow Control disable / enable
Power saving mode control
Port Status
Display each port's speed duplex mode, link status, Flow control status, Auto negotiation status, trunk status
Port Mirroring
TX / RX / Both
Many to 1 monitor
E.R.P.S. Ring *
Recovery time <20ms
VLAN
802.1Q Tagged Based VLAN, up to 255 VLAN groups
Q-in-Q tunneling
Private VLAN 
MAC-Based VLAN
Protocol-Based VLAN
Voice VLAN
MVR (Multicast VLAN Registration)
Up to 255 VLAN groups, out of 4095 VLAN IDs
Link Aggregation
IEEE 802.3ad LACP / Static Trunk
Supports 5 groups of 10-Port trunk
QoS
Traffic classification based, Strict priority and WRR
8-Level priority for switching
 - Port Number 
 - 802.1p priority
 - 802.1Q VLAN tag
 - DSCP field in IP Packet
IGMP Snooping
IGMP (v1/v2/V3) Snooping, up to 255 multicast Groups
IGMP Querier mode support
MLD Snooping
MLD (v1/v2) Snooping, up to 255 multicast Groups
MLD Querier mode support
Access Control List
IP-Based ACL / MAC-Based ACL
Up to 256 entries
Bandwidth Control
Per port bandwidth control
 Ingress: 500Kb~1000Mbps
 Egress: 500Kb~1000Mbps
SNMP MIBs
RFC-1213 MIB-II
RFC-2236 IGMPv2
RFC-2710 MLDv1
RFC-3376 IGMPv3
RFC-2879 RMON 1, 2, 3, 9
RFC-1493 Bridge MIB
RFC-1643 Ethernet MIB
RFC-2863 Interface MIB
RFC-2665 Ether-Like MIB
RFC-2819 RMON MIB (Group 1, 2, 3 and 9)
RFC-2737 Entity MIB
RFC-2618 RADIUS Client MIB
RFC3411 SNMP-Frameworks-MIB 
IEEE 802.1X PAE
IF-MIB
LLDP
MAU-MIB
Standards Conformance
Regulation Compliance
FCC Part 15 Class A, CE
Stability Testing
IEC60068-2-32 (Free fall)
IEC60068-2-27 (Shock)
IEC60068-2-6 (Vibration)
Standards Compliance
IEEE 802.3 10Base-T
IEEE 802.3u 100Base-TX / 100Base-FX
IEEE 802.3z Gigabit SX/LX
IEEE 802.3ab Gigabit 1000T
IEEE 802.3x Flow Control and Back pressure
IEEE 802.3ad Port trunk with LACP
IEEE 802.1D Spanning Tree Protocol
IEEE 802.1w Rapid Spanning Tree Protocol
IEEE 802.1s Multiple Spanning Tree Protocol
IEEE 802.1p Class of service
IEEE 802.1Q VLAN Tagging
IEEE 802.1x Port Authentication Network Control
IEEE 802.1ab LLDP
Environment
Operating

| | |
| --- | --- |
| Temperature: | -40 ~ 75 degree C |
| Relative Humidity: | 5 ~ 95 % (non-condensing) |

Storage

| | |
| --- | --- |
| Temperature: | -40 ~ 75 degree C |
| Relative Humidity: | 5 ~ 95 % (non-condensing) |

* Remark: function to expect in future
Ordering Information
IGS-10080MFT
Industrial 8 100/1000X SFP + 2-Port 10/100/1000T Managed Switch (-40 ~ 75 Degree C)
Gwarancja: Producenta (60m)
Nie ma jeszcze komentarzy ani ocen dla tego produktu.
Ostatnio oglądane produkty

Inni Klienci kupili również

Produkty podobne