Zyxel NWA5123-ACHD-EU0101F
Symbol: NWA5123-ACHD-EU0101F
Program lojalnościowy dostępny jest tylko dla zalogowanych klientów.
Wysyłka w ciągu

2-3 dni

Cena przesyłki

0

Dostępność

2

szt.

Waga

0.15 kg
| | |
| --- | --- |
| Kod kreskowy | |
| EAN | 4718937595822 |
Zamówienie telefoniczne: 880394394
Opis

Opinie i oceny (0)

Zadaj pytanie
Druga generacja bezprzewodowej technologii AC zapewniająca wysoką elastyczność
Druga generacja technologii kształtowania sygnału (Beamforming) umożliwia modelowi NWA5123-AC HD dostarczanie doskonałego zasięgu i szybkości połączeń dla klientów MU-MIMO.
Dodatkowo NWA5123-AC HD współpracuje z NebulaFlexTM Pro, który zawiera 3-letni pakiet profesjonalny oraz funkcjonalność trzech trybów zarządzania (niezależny, kontroler sprzętowy oraz Nebula).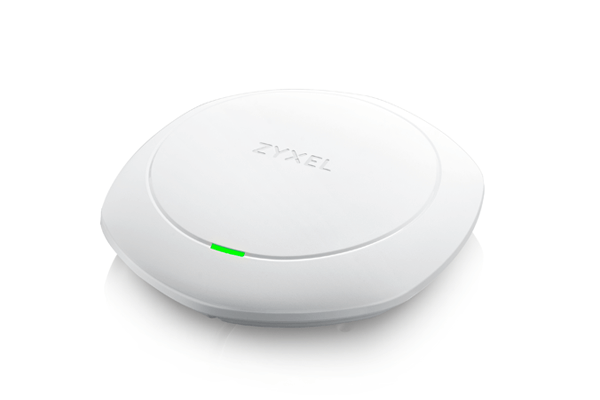 MU-MIMO - nowa definicja Wi-Fi
Bazująca na standardzie 802.11ac, druga generacja technologii Wave2 prezentuje Multi-User MIMO (MU-MIMO). To ważny krok w rozwoju sieci bezprzewodowej, który umożliwia punktom dostępowym połączenie się z wieloma klientami jednocześnie, oferując 300% wydajności dla każdego punktu dostępowego 3x3.
Single

-User MIMO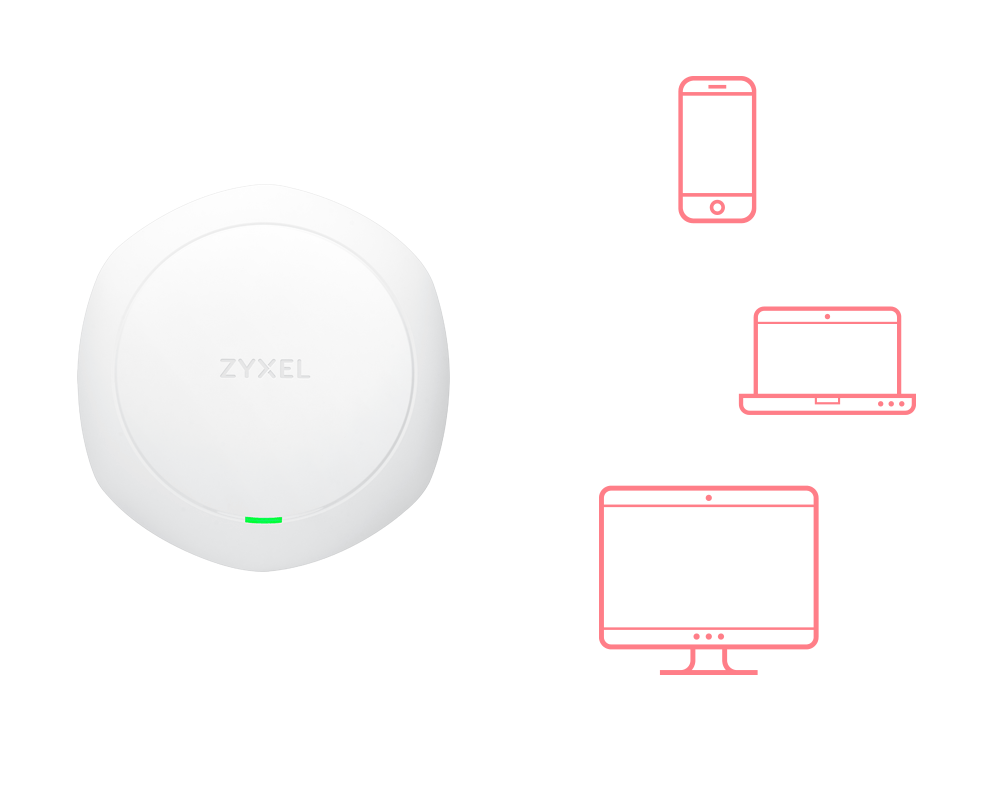 Multi

-User MIMO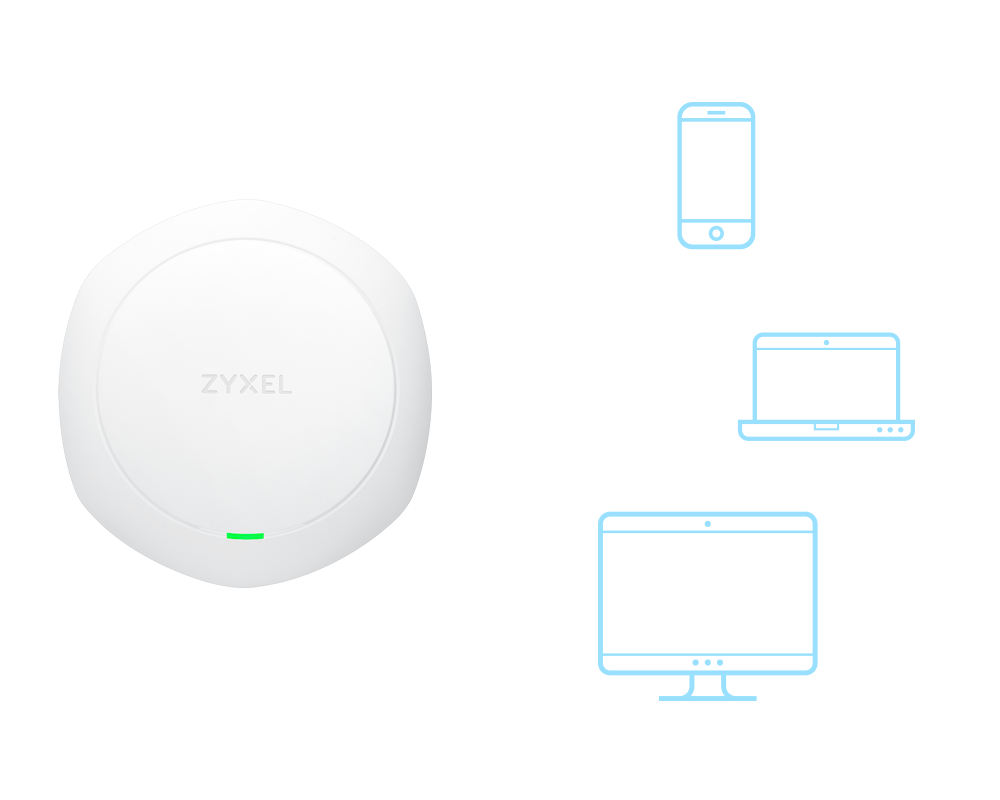 Druga generacja transmisji kształtowanego sygnału oznacza korzyści dla całej sieci
Technologia Transmit Beamforming (TxBF), to kolejny kluczowy element niezawodnych instalacji bezprzewodowych w środowisku dużej liczby urządzeń. Zwiększa całkowitą prędkość transmisji danych sieciowych, co przynosi korzyści nie tylko klientom MU-MIMO, ale także wszystkim pozostałym użytkownikom sieci.
Zyxel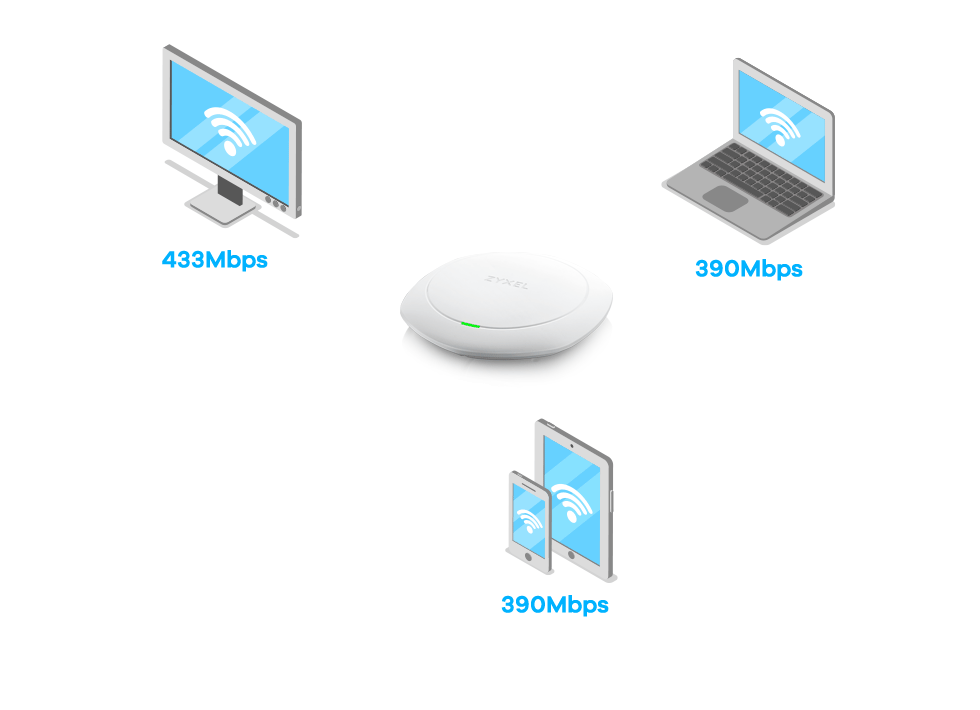 Inni producenci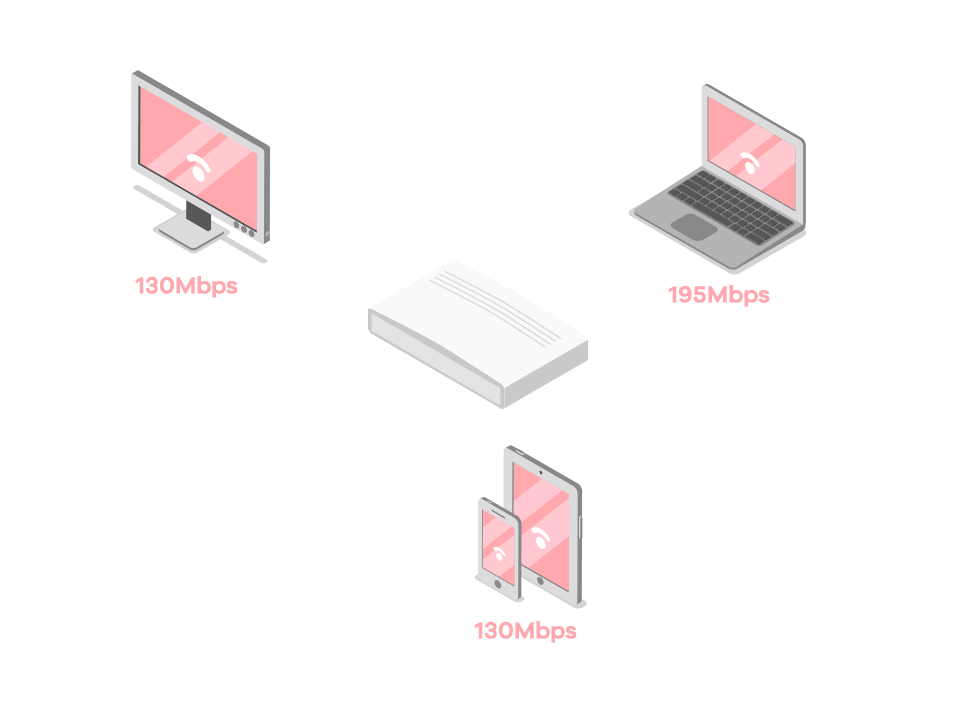 Zbudowany z myślą o najwyższej wydajności
Model NWA5123-AC HD posiada moduł antenowy o wysokiej wydajności, wzmacniacze mocy klasy premium oraz elementy konstrukcyjne generujące niski poziom zakłóceń. Dzięki temu urządzenie zapewnia doskonałą wydajność bezprzewodową, większą niż dostępne na rynku konkurencyjne produkty Wave2.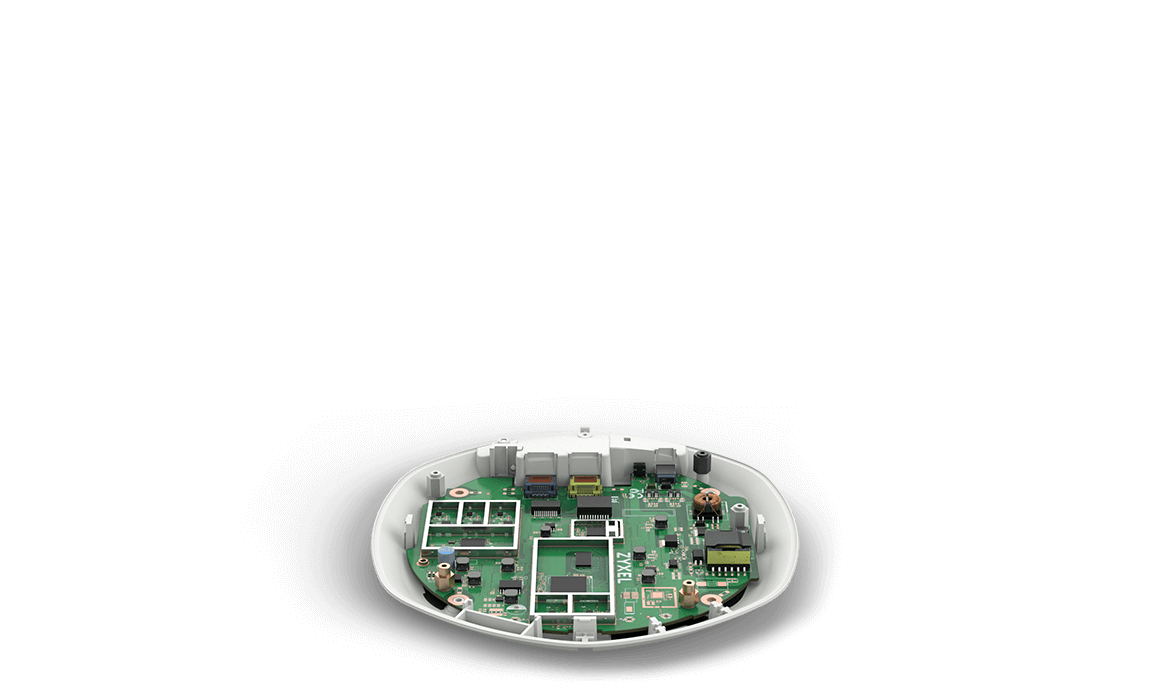 Zoptymalizowana sieć Wi-Fi z zaawansowaną funkcjonalnością
Aby zapewnić wyjątkową wydajność w środowisku dużej liczby urządzeń, NWA5123-AC HD charakteryzuje się odpornością na zakłócenia 3G / 4G, doskonałą czułością odbiornika i DCS, co zwiększa zakres usług dla większej liczby klientów i zapewnia lepszą jakość połączeń.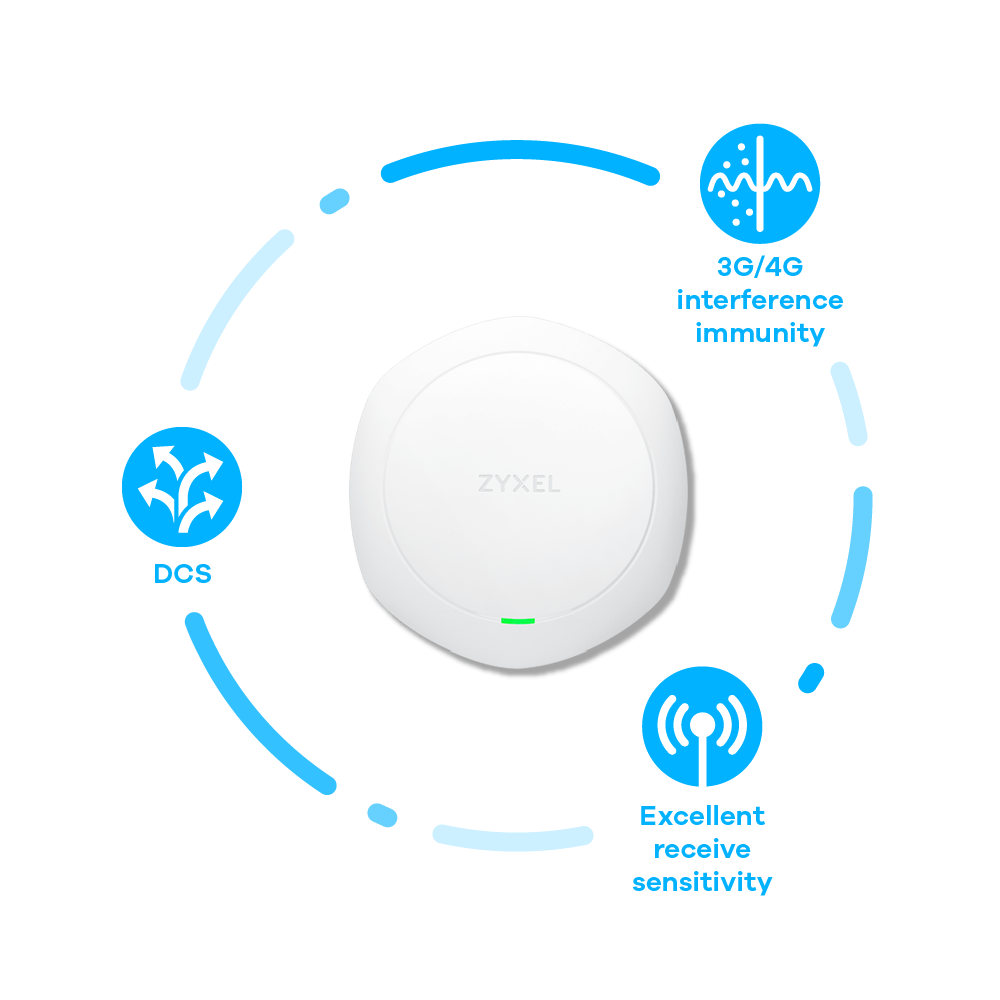 Najbardziej elastyczne zarządzanie
Seria NWA5123-AC HD z obsługą NebulaFlex Pro, aby spełniać wszelkie potrzeby klientów biznesowych, może pracować w trzech trybach: niezależnym, zarządzanym przez kontroler lub przez Nebula Control Center. W prostych infrastrukturach sieciowych urzadzenia mogą działać w trybie autonomicznym, a w przypadku rozbudowanych sieci wymagających zaawansowanych funkcji można uruchomić zarządzanie kontrolerem. System Nebula został zaprojektowany tak, aby zaspokoić wszystkie potrzeby i dlatego oferuje doskonałą skalowalność, bogatą funkcjonalność oraz centralne zarządzanie.

Models

NWA5123-AC HD

802.11ac Wave2 Dual-Radio Unified Access Point

RF Specifications
802.11n/ac premium features

802.11n: 2x2 MIMO with two spatial stream (SU-MIMO)
802.11ac: 3x3 MIMO with three spatial stream (SU-, or MU-MIMO)
802.11ac beamforming (transmit beamforming)
Maximal ratio combining (MRC)
Low End Sensitivity Improvements (LESI)
Time Domain Channel Smoothing
20-, 40- and 80-MHz channels
PHY data rates total up to 300 Mbps (11n) + 1300 Mbps (11ac)
Packet aggregation: A-MPDU (Tx/Rx), A-MSDU (Tx/Rx)
Cyclic Delay diversity (CSD) support
Maximum Likelihood Demodulation (MLD) support
Low Density Parity Check (LDPC) support

Typical transmit output power (dBm) 

*1

US (FCC) 2.4 GHz:

 25 dBm

US (FCC) 5 G GHz:

 28 dBm

EU (ETSI) 2.4 GHz:

 20 dBm

EU (ETSI) 5 G GHz:

 26 dBm

Antenna gain

2.4 GHz: 

3 dBi; 2x2 MIMO

5 GHz: 

3 dBi 3x3 MIMO

Support data rate

802.11a/g: 1, 2, 5.5, 6, 9, 11, 12, 18, 24, 36, 48, and 54 Mbps
802.11n: up to 300 Mbps in MCS15 (40MHz; 2 Spatial Streams; GI=400ns)
802.11ac:up to 1300 Mbps in MCS9 (80MHz; 3 Spatial Streams; GI=400ns)

Receive sensitivity
Min. Rx sensitivity up to -103 dBm
Interfaces
Number of 10/100/1000M LAN
2 x switch ports
Console port
4-Pin serial
Input power requirements
Direct DC power or Power over Ethernet (PoE)

*2

PoE
802.3at (full mode)
802.3af (Restrict 2.4G & 5G radio to one transmit stream only.)
PoE power draw
15.5 W (802.3at PoE)
WLAN
WLAN maximum throughput
Up to 1600 Mbps
Fast roaming
Pre-authentication and PMK caching
Wireless Security

WPA/WPA2-PSK
WPA/WPA2-Enterprise
WLAN access control list
EAP type
IEEE 802.1X
MAC filtering
Web authentication 

*3

Layer-2 isolation
RADIUS authentication
Microsoft AD authentication

*3

LDAP authentication 

*3

MAC authentication 

*3

Rogue AP detection

Number of SSID
16
QoS

WMM
WMM power save
U-APSD
DiffServ marking

Network
IPv6 support
Yes
VLANs
Yes
DHCP client
Yes
Management
ZON Utility

*4

Discovery of Zyxel switches, APs and gateways
Centralized and batch configurations

IP configuration
IP renew
Device factory reset
Device reboot
Device locating
Web GUI access
Firmware upgrade
Password configuration
One-click quick association with Zyxel AP Configurator (ZAC)

Smart Connect

Neighbor device discovery
One-click remote management access to the neighboring Zyxel devices

Zyxel AP Configurator

*5

Batch AP configuration
Batch AP firmware upgrade
Batch AP profile backup

Zyxel Wireless Optimizer 

*6

Wi-Fi AP planning
Wi-Fi coverage detection
Wireless health management

Standalone AP mode
Yes
Managed AP mode
Yes
CLI
Yes
SNMP
v2c/v3
Standard Compliance
Ethernet

IEEE 802.3
IEEE 802.3u
IEEE 802.11ab
IEEE 802.3au
IEEE 802.3az
IEEE 802.3af/at

PoE
IEEE 802.3af/at
WLAN

802.11b: DBPSK, DQPSK, CCK
802.11g: BPSK, QPSK, 16-QAM, 64-QAM
802.11a: BPSK, QPSK, 16-QAM, 64-QAM
802.11n: BPSK, QPSK, 16-QAM, 64-QAM
802.11ac: BPSK, QPSK, 64-QAM, 256-QAM

Certifications
Radio

FCC Part 15C
FCC Part 15E
ETSI EN 300 328
EN 301 893
LP0002
EN 60601-1-2

EMC

FCC Part 15B
EN 301 489-1
EN 301 489-17
EN55032
EN55024
EN61000-3-2/-3
BSMI CNS13438

Safety

EN 60950-1
IEC 60950-1
BSMI CNS14336-1

Physical Specifications and others
Item
Dimensions (WxDxH)(mm/in.)
211 x 223 x 39 / 8.31 x 8.78 x 1.54
Weight (g/lb.)
750/1.653
Packing
Dimensions (WxDxH)(mm/in.)
251 x 247 x 55/9.88 x 9.72 x 2.17
Weight (g/lb.)
990/2.182
Included accessories
Wall/ceiling mount plate
Plenum rating
Yes
Kensington lock support
Yes
Power supply

Input

: AC 100-240V, 50~60Hz


Output

: DC +12V 2A (Sold separately)
MTBF (hr)
4,134,738
Environmental Specifications
Operating
Temperature
-20°C to 60°C / -4°F to 140°F
Humidity
10% to 90% (Non-condensing)
Storage
Temperature
-40°C to 70°C / -40°F to 158°F
Humidity
10% to 90%
Models
RF Specifications
802.11n/ac premium features
Typical transmit output power (dBm) 

*1
Antenna gain
Support data rate
Receive sensitivity
Interfaces
Number of 10/100/1000M LAN
Console port
Input power requirements
PoE
PoE power draw
WLAN
WLAN maximum throughput
Fast roaming
Wireless Security
Number of SSID
QoS
Network
IPv6 support
VLANs
DHCP client
Management
ZON Utility

*4
Smart Connect
Zyxel AP Configurator

*5
Zyxel Wireless Optimizer 

*6
Standalone AP mode
Managed AP mode
CLI
SNMP
Standard Compliance
Ethernet
PoE
WLAN
Certifications
Radio
EMC
Safety
Physical Specifications and others
Item
Packing
Included accessories
Plenum rating
Kensington lock support
Power supply
MTBF (hr)
Environmental Specifications
Operating
Storage
Notes:
*1. Maximum output power is limited by regional regulatory.
*2. When both power sources are available, DC power takes priority over PoE.
*3. Supports when working with Zyxel NXC controller.
*4. Support from ZON Utility V2.1 or above.
*5. Support from ZAC V1.1.4 or above.
*6. Support from ZWO V1.0.5 or above
Gwarancja: Ograniczona dożywotnia 5 lat od zakończenia sprzedaży (60m)
Nie ma jeszcze komentarzy ani ocen dla tego produktu.
Ostatnio oglądane produkty

Inni Klienci kupili również

Produkty podobne